Advantage
Protect the climate with just a few clicks!
A small contribution for a great effect
Here is an example of how you, as a climate partner of the Blue Planet Certificate, can always be up to date and currently act in a climate-neutral way:
By planting just two trees a month, you protect the climate because...
you remove 1 ton of CO2 from the atmosphere every month.
your contribution of 12 € plus VAT will be debited monthly and every month 2 new trees will be planted for you automatically.
you will receive materials for your website or products to present your commitment to climate protection activly.
you present your company on the Blue Planet Certificate website.
you are a climate protector and help to master one of the most important challenges of our time.
With every tree planted by the certificate, you compensate 500 kg CO2 and your company becomes bit by bit more climate neutral.
You have the chance to to good and to communciate this at the same time!
Various formats
As soon as you have booked the first trees, you will receive your own partner account at Blue Planet Certificate. Here, in the Downloads section, you will find various formats for communicating your commitment and using your certificate, e.g. as a pdf file or as an online snippet. If you have integrated the certificate as a snippet into your website, you do not need to do anything else. Every month the number of your trees and your reduced tons of CO2 will be updated automatically - very smart.
Some examples:
Certificate horizontal 320x120px
Certificate vertical 150x240px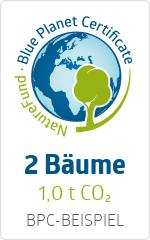 Certificate with image 320x320px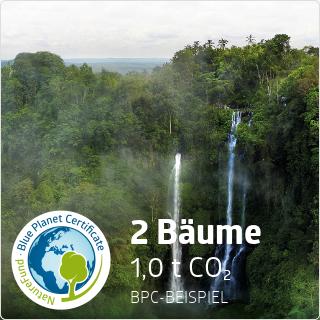 Certificate to print
Become a climate partner
Do you have the motivation to become a climate-friendly company? Many already are and offset several kilograms of CO2 every month via the Blue Planet certificate. Join in and become part of a forward-looking movement. Discover our climate partners here ».
Your CO2 footprint
You already know your emission values or still need to determine them? We have the right solution for both ways.